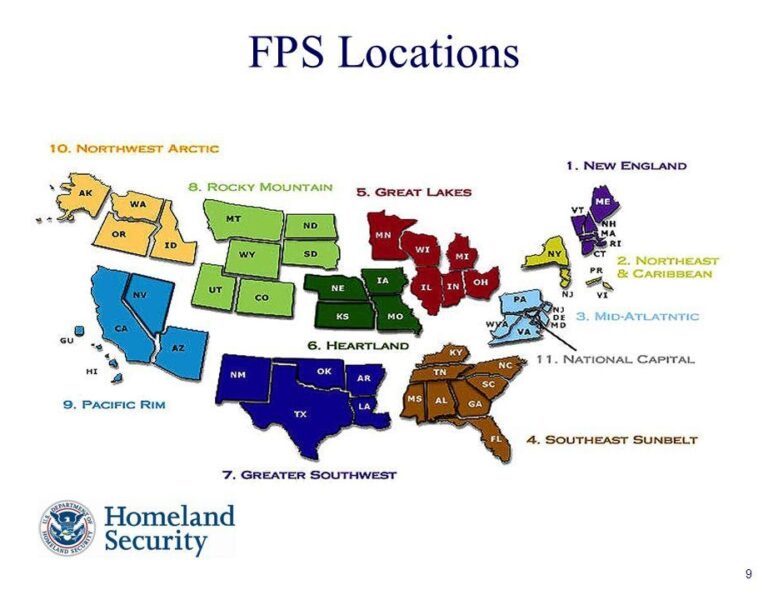 Client: Federal Protective Service
General Contractor: AES Systems
Project Description: Security Systems Preventative/Corrective Maintenance for Region 9
Project Timeline: 2009 – 2018
FPS Region 9
Since 2009 AES Systems has performed on security systems maintenance contracts for the Federal Protective Service (FPS) in Level IV Federal Buildings, throughout (REGION 9), which included California, Nevada, Arizona, and Pacific Islands territories. 
Preventative and Corrective Maintenance Video Surveillance & Intrusion Detection Systems (IDS)
Work consisted of quarterly on-site full system checks, preventative and corrective maintenance for surveillance video and intrusion detection security systems, owned by (FPS). AES provided 24hr phone support for troubleshooting systems and operator training. AES Systems' personnel were required to go through extensive background checks to obtain a US Government issued secret clearance to perform work in these buildings.
Work performed:
Every quarterly site-visit, an AES technician would perform the following work for each location:
Test and verify the functionality of the video surveillance systems/intrusion detection systems and all associated components  

Adjust appropriate software and camera settings to optimize system performance 

Clean all exterior and interior cameras 

Clear dust and debris from computer servers and workstations

Arming the intrusion detection system and verifying functionality for all door/window sensors, glass break sensors, motion sensors, duress buttons, testing panel 12V battery voltage

Verifying local and central monitoring station reporting of IDS system devices    

Giving detailed reports of system devices, part numbers, serial numbers, description, and locations of devices. Providing any other specific notes about relevant system information  

Documenting any potential system issue, device issue, device failure and provide recommended preventative/corrective work to correct the issues.