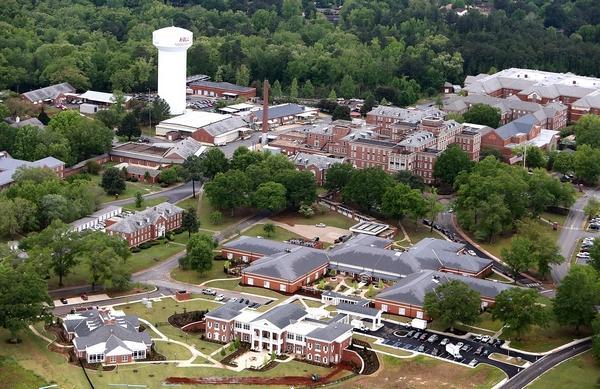 Client: VA Medical Center Tuscaloosa, Alabama
General Contractor: AES Systems
Project Description: Video Surveillance System
Project Timeline: 2012 – Ongoing
VA Medical Center Tuscaloosa
The Tuscaloosa VA Medical Center (TVAMC) is in West Alabama, where the facility is situated on a beautiful campus of 125 acres with 25 major buildings. TVAMC provides primary care, long-term health care, rehabilitative care, and mental health care services to eligible Veterans in VISN 7.  
The Tuscaloosa VA Medical Center provides access to secondary and tertiary care services. TVAMC provides comprehensive outpatient services in Primary Care clinics. The Medical Center operates a 317-bed teaching hospital including 43 hospital operating beds, and 134 authorized nursing home/Community Living Center (CLC) care beds.
For over a decade AES Systems has been installing and maintaining the campus wide video security system at the Tuscaloosa VA Medical Center.  Work has included upgrading legacy analog CCTV systems in some building, completely new IP camera systems in existing buildings, new construction IP camera systems and full VA network integration for the video surveillance system.  Dozens of enterprise servers, monitoring workstations and network switches have been installed and commissioned by the AES team over the various project installments. 
Onsite system trainings are performed by AES personnel, to ensure proper function, understanding and use of the technologies provided.  AES also provides phone support for troubleshooting system issues when they arise.  
Systems included the following:
Over 350 cameras campus wide consisting of Megapixel, PTZ, Multisensor and Analog cameras.  

AES Systems' purpose-built enterprise servers and workstations.

Wireless radio links for camera locations throughout campus parking lots and other critical remote locations. 

Distributed IP network infrastructure with Fiber optic backbone.

Enterprise Network Video Management System software to support recording and remote viewing of all devices on the camera network.