Commercial
Whatever your business demands, we can design systems to secure and support your operations.
Market Portfolio
Commercial clients across industries, from Healthcare, Education, and Corporate sectors have relied on our team to provide real-world solutions for their security and management needs. We work close with our client's IT department to provide easy to use IP based systems.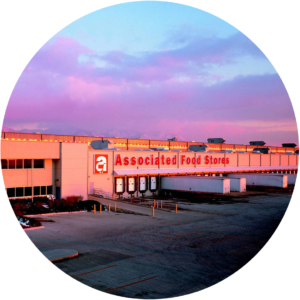 Associated Foods
A security system is an essential feature for most businesses, as it helps to prevent product losses, increases employee safety, reduce hazards, and manage logistical issues. A properly designed security system puts control and power in your hands to ensure your business is protected and functioning efficiently. We work closely with our corporate clients to design systems to meet their specific needs.
Types of businesses we work with include:
Manufacturing
Large retail
Businesses with multiple locations
Education
Corporate office buildings
Pharmaceutical
Distribution centers
Integrated facility Security Systems
Combining video surveillance, access control, intrusion detection, audio, intercom, and more into a unified platform provides the highest level of security, flexibility, and performance. This unifies all your data so that you can manage security policies, monitor events, and run investigations quickly from a single application. Its extensive ecosystem lets you expand your system with the technology you need to face emerging threats. And since it's not focused on one narrow set of tasks, it accommodates new data types seamlessly in one interface. AES Systems can assist with a completely new system or support upgrades or expansion of existing systems.
Video Surveillance
One cannot underestimate the essential value of video surveillance, it's fundamental to oversee the overall safety of your facility, assets, and people. Video surveillance systems are changing daily becoming more intelligent and continuing to improve the security at facilities.
Video Analytics
Video surveillance cameras can provide much more than just viewing and recording. Video analytics can be deployed at the edge(camera) or server to provide notifications and alerts. These include intrusion detection, object left behind, license plate scanning, object analytics, tamper detection, ID verification, object moving in the wrong direction, and many more. Analytics engines make searching through large amounts of video much faster as you can search for a particular person, object, or vehicle across all cameras.
AI-enabled analytics are being developed and improved for many applications. They are self-learning and can provide alerts for abnormalities in the video. These can include concerning behavior, illegal parking, people/vehicles moving in the wrong direction, slipping/falling, and many more.
The weapon detection solution is valuable in providing active shooter detection warnings before the actual shooting incidents can occur, effectively enhancing proactive measures to save lives. Analytics can be developed for a wide range of applications. Contact us if you have situations, you would like your video surveillance system to notify you of.
Powerful Data Tools
Gathering and tracking relevant data is a necessity to an organization's greater success. Video Surveillance Systems have a unique way of helping to provide critical data and feedback in the way of data analytics either installed at the(edge)cameras, recording servers, or 3rd party software applications.
These data analytics can be used for counting people or objects, restricted area access alerts, loitering, monitoring queue length, and much more. There are a host of Artificial Intelligence analytics that greatly enhance many of these applications, such as, ease in searching recorded video setting a variety of filters to quickly find what you're looking for, and self-learning algorithms like environmental changes.
Having these powerful applications and tools through your video surveillance system at your organizations disposal, will become an invaluable method for gathering data and enriching your organization with insight about its security, customers, employees, and other processes in general.
Visitor Management
Automated visitor management protects property and everyone in your business. A tablet mounted at visitor entry(s) integrates to your facility security platform to facilitate visitor management. Benefits include:
Automate the sign-in experience to create a welcoming, secure, and convenient first impression.
Simplify the process of notifying hosts when their visitors arrive by retrieving host names and sending an email with relevant visitor information.
Control everything from the pages visitors see to the reports that admins generate to keep your facility safe and better understand access events.
Personalize three workflows for visitor sign-in/out, delivery notification and help request.
Print visitor badges that clearly display visitor identification.
Ask custom visitor questions to screen for any potential health risks.
Cloud Based Security
Cloud based security platforms are a valuable option for many businesses. In addition to having your system hosted off site, it is a way to have unlimited locations easily managed from a single platform. Remote locations can be connected to the cloud platform via cellular or satellite communications. The cloud platform is designed to manage bandwidth to support areas with limited connection speeds.
Sites can include video cameras, video analytics, access control, audio monitoring, audio talk-down, and a host of sensors to monitor conditions including temperature, noise, moisture, vibration, electrical power, and much more.
Getting real time notifications from all locations with the ability log in and access any location from anywhere is invaluable.
Employee safety
People are the most important asset to any business or organization. Employees have the right to feel safe and protected in their working environments. One of the greatest ways of protecting and keeping people safe is a properly implemented security system. Access control and visitor management controls who can access your spaces. A video surveillance can track and identifying potential threats or hazards in the workplace. This can be done by utilizing smart analytics built into the cameras, or by security staff members monitoring camera feeds, being alerted of potential threats or problems. Another way is through monitoring critical work areas that may not be safe for unauthorized personnel. Knowing where people are in the case of an emergency is critical in being able to send for help, and in evacuation situations. Employees can show up each day to work with the peace of mind that their environment is secure and protected.
Our Most Popular Products Include
Turn-key Integrated Security Systems
Video Surveillance
Access Control Systems
Intrusion Detection Systems
Remote Alarm and Video Monitoring
Video Analytics
Cloud-based Video Management Systems
Commercial Grade
Commercial security systems comprise both standalone and integrated configuration units. They perform one or more of the following functions:
Premises access control, Video surveillance, Fire, heat, water, and/or entry alarms, Remote status alerts and management, Energy management of HVAC systems (heating, ventilation, and air conditioning), control lighting and power-on and power-off, and designated equipment.
Custom Mounting
AES provides installation options used for installing cameras in different locations. We have designed custom installations inside tanks and vessels, towers, vehicles, quick release units, and camera lowering systems.
Surveillance
We provide the latest IP networked cameras to give audio-visual evidence through video analytics and identification.
Access Control
AES Systems offer access control units to manage entrances and exits as well as track employee activity. Our access control units are reliable, secure, and simple.
Intrusion Detection
The company provides state-of-the-art intrusion detectors and makes security easily obtainable with hard-wired sensors and detectors as well as wireless devices. AES Systems help clients monitor and respond to an intrusion in real-time.
Cloud Security
AES Systems cloud security solutions provide complete cloud management, 100% mobile and web browser viewing, and optional cloud recording. You can incorporate cameras at any time and change how long you keep your recordings. What we offer in cloud security contains highly scalable infrastructure, triple redundancy, and encryption at its best to ensure comprehensive security. The cameras can work with both low and high resolution. AES cloud security units are extensively compatible with IP and analog cameras.